Our Latest News
Click on our Upcoming Events to find out more about our exciting events.
Thanking Drive & Align for their generous donation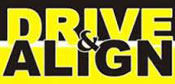 With regards to the BLANKET RUN 2015 Justin de Vos from Drive & Align has donated R1 000 towards this initiative and hereby challenges other Companies or Corporates to equal or better that value.
Thank you to Drive & Align for their contribution ... much love!! Now to make it even more exiting AUTOPUNKS CAR CLUB challenges other Car Clubs to equal or better R1 000 and that's our challenge today.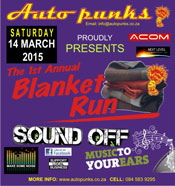 Remember we are humble and accept any contributions like blankets or old clothes or foods (non perishables) doesn't have to be cash.
Although all cash contributions will be accepted by the Administrative Manager to the organisation on the day of the Blanket Run LIVE for the world to see and also photographic media will be captured and shared.
Have an awesome day folks!!
To view the full poster click here
View our events: click here
God bless!! For any further info contact me Grant on 084 583 9295
More NEWS
Phase 1 done & dusted!! Tomorrow I'm off to the Legend Zach Abrahams to finalize our plan!! Watch this space and the guys from "Off the Record'' are ready for action.
Please Guys disposing of old blankets or clothing is strictly prohibited. Kindly stash it until we finalise a date. All foods like Maize meal , sugar , tea or canned veggies & food will do as a contribution.
Your help will be a blessing as always!!! God bless!!
For any further info contact me Grant on 084 583 9295
PAUL WALKER